Getting Our Fair SHARE: 2022 Virtual Conference to
End Health Disparities
June 24, 2022
10 a.m. to 3:30 p.m. ET
About the Virtual Conference:
SHARE is pleased to present
Getting Our Fair SHARE: 2022 Conference to End Health Disparities.
There has been a lot of talk about health disparities. The time has come to start acting. Getting Our Fair SHARE: 2022 Conference to End Health Disparities does just that.
This year, at our second conference, we are honing in on key obstacles to health equity and creating a clear path to make progress now.
Our process is simple and we need your participation to make it work. This is what we are doing:
We're bringing the most important voices together to collaborate. These voices represent patients, medical professionals, pharmaceutical companies, governmental agencies, and advocacy organizations.
We're creating "Same Race Circles" to draw out deep insights, overcome communications barriers, challenge norms, and create community.
It's exciting to report that the work streams are already underway to focus on a critical finding from last year's conference: Transforming the Patient Navigation Model. We will be reporting on these important new insights at our Pre-Conference Patient Navigation Action Workshop on June 23rd.
Now, we need to take transformative actions to improve access to quality care for all women. We have an important agenda planned and now we need your involvement to take the next crucial steps forward at the 2022 conference on June 24th.
Who Should Attend:
Patients: A diverse group of Black, Latina, Asian and White patients from each of SHARE's disease areas (breast, ovarian, uterine, cervical, and metastatic breast cancer)


Medical Professionals: Including doctors, hospital personnel, oncology nurses and patient navigators representing all races


Pharmaceutical Companies: Including corporate patient advocates and diversity officers


Corporate/Governmental Agencies: Including government representatives and policy makers


Advocacy Organizations: Including national nonprofit groups representing different disease areas and ethnicities


Featured Keynote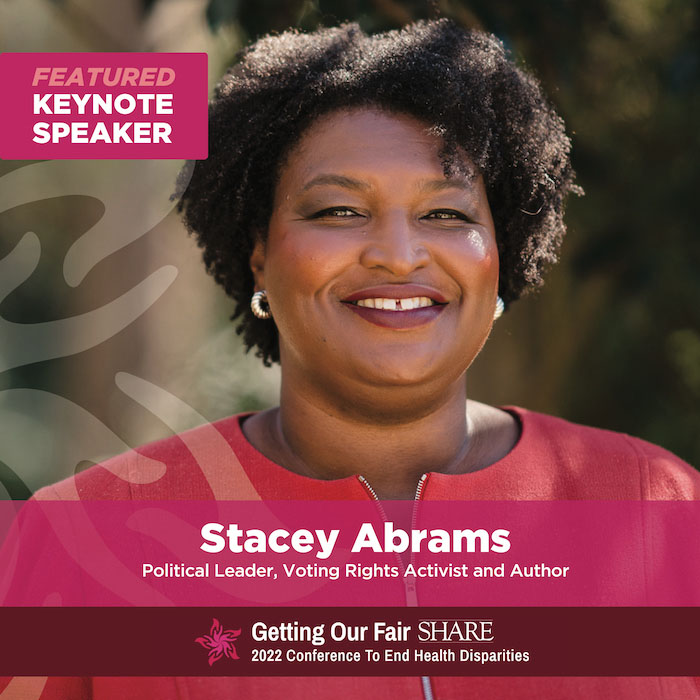 Opening Keynote